We're very excited here at By Moon & Tide – we've launched our very first online calligraphy workshop. We hope you'll enjoy learning how to make beautiful letters, and to celebrate the launch we're offering you a 25% introductory saving on the price of the course!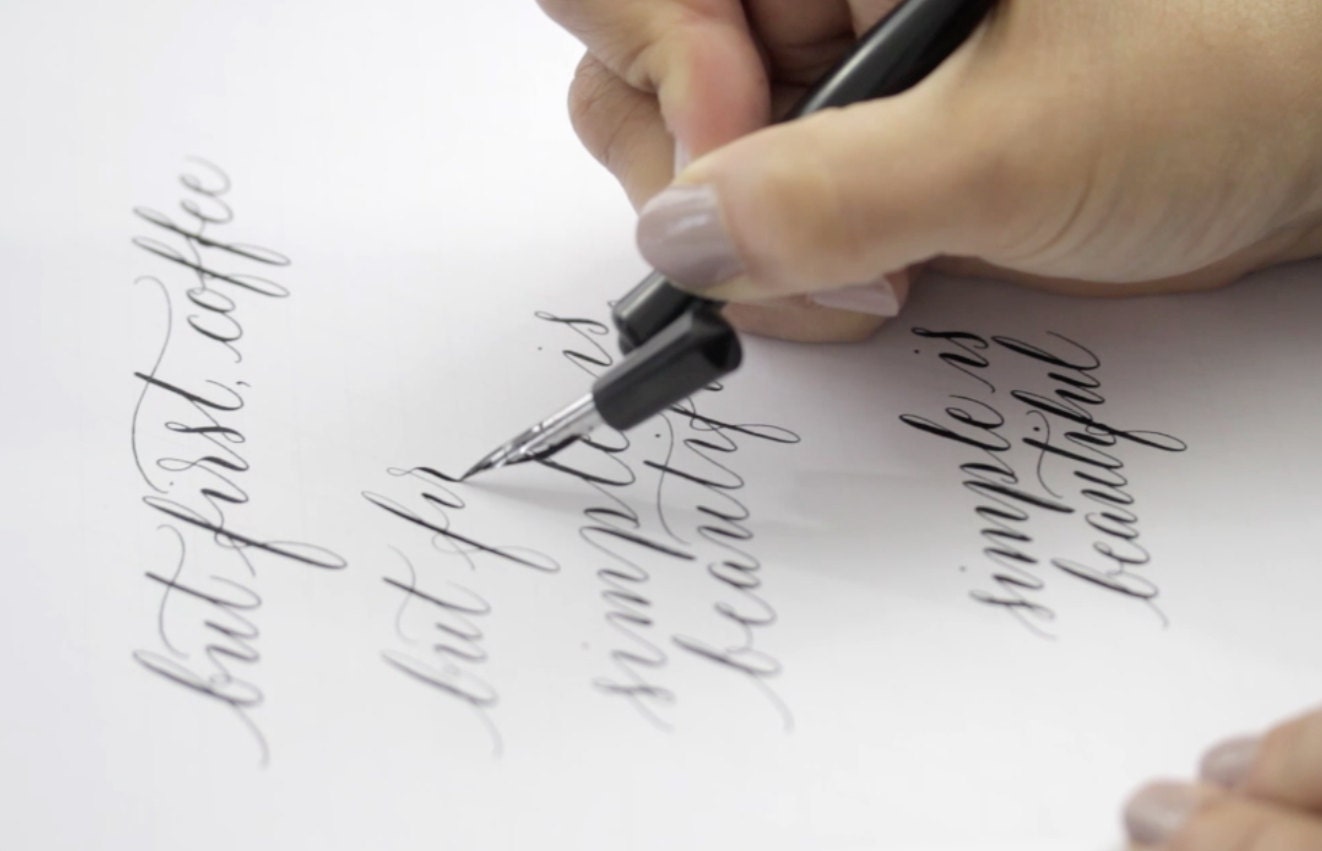 A top quality online calligraphy workshop
It's taken me many months to put this online calligraphy workshop together, which means you can be confident you're getting the very best when you sign up for the course. I've taught many beginners how to write beautiful modern lettering, and the online workshop includes everything I share with them as well as questions I'm asked by students when I teach.
The six week calligraphy workshop includes…
The online calligraphy workshop comprises six video tutorials, each from 5 – 10 minutes long. There are downloadable worksheets for you to print and copy, suggested exercises to help you learn each stroke and letter, and even ideas for practice inbetween tutorials. A new tutorial will be delivered via email every week for 6 weeks!
We begin with the very basics: where to find the best supplies (you'll need a pen, nib and ink to begin) and how to make those first strokes of calligraphy on the page. By the third week you'll be writing a full alphabet with the help of downloadable worksheets and cheat sheets. By the end of the course you'll have tried your hand at some inspirational quotes (with my help and advice for creative layouts), brush pen lettering and more.
Here's a little taster…
SAVE 25% off the purchase price – early bird introductory offer!
SAVE 25% when you sign up for the online calligraphy workshop today! Join the course here –
MAKING BEAUTIFUL LETTERS
– and quote the code WRITE-BEAUTIFUL to save 25% on the advertised price.
You'll receive your first video tutorial, downloadable worksheets and instructions straight away. The remainder of the course will arrive in your email inbox over the next 6 weeks!
Don't forget to quote WRITE-BEAUTIFUL to save 25% today!
(The introductory price offer is available for one week only – so hurry if you'd like to claim yours!)